So Far It Has Only Been For You
Melissa Hinkin
Test Bed
|
9 Awst 2008 - 4 Hydref 2008
Melissa Hinkin explores materials in their natural state and investigates the contrasting relationship between the industrial and natural environment. In her latest work, So Far It Has Only Been For You, Hinkin continues to investigate the significance of location and the ways in which we relate to a specific environment.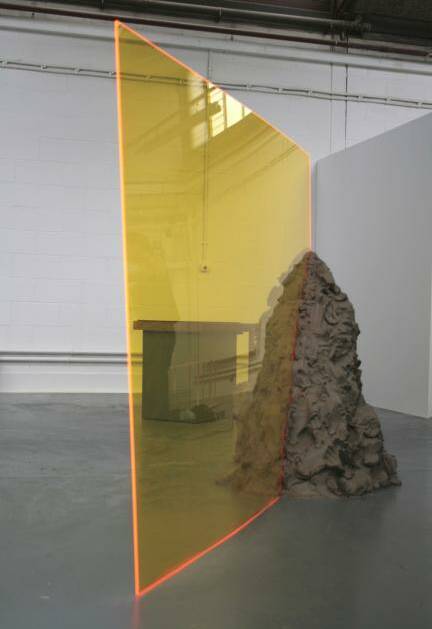 Melissa Hinkin has created So Far It Has Only Been For You specifically for the In Focus* Gallery as a continuation of her exploration into materials and place. She takes a minimal approach to her work and uses everyday materials she has collected to create simple sculptural compositions. Ordinary items such as hooks, polystyrene, copper pipes, mirrors, strip lights and Perspex, act as supports to which she introduces clay, slate or other organic materials.
Hinkin deliberately juxtaposes raw materials, reminiscent of the landscape and the primitive, against industrial products in order to emphasise the presence of modern man. These two-part compositions are in a state of tension and flux, both dependent on the other for stability and balance. As it dries the clay slowly begins to contract and withdraw from the Perspex or when other materials begin to become polarised, the balance alters and the separate identity of each material becomes strikingly apparent. Through her work, Hinkin is consciously stacking, binding and layering materials, both nurturing them and yet placing them in vulnerable situations. This shifting relationship between materials and space creates an unpredictable and fluctuating energy.
Although each material retains its distinctiveness and individual character the coupling of substances allows for new physical and psychological tensions to take place. The clay, often a material associated with the practice of craft, shows physical evidence of the artist's hand and contrasts significantly with the uniform, manufactured surface of the Perspex.
Aside from the physical relationships between materials, Hinkin explores the metaphorical connections between viewer and sculpture. Many of the works occupy the same physical space and volume as the viewer, encountering them as equal. The title also plays an important role so that for example, So Far It Has Only Been For You, creates room for poetic interpretation to allow consideration that the sculpture's presence exists beyond its materiality.
Melissa Hinkin is an emerging artist based in Oswestry, Shropshire who has recently completed a BA in Sculpture at Wimbledon College of Art. She is a former member of our Young Curators Group and has previously exhibited work in Identity, the 2004 Oriel Davies Open.

*In 2009 the In Focus space changed its name to Test Bed

Supporting new and experimental work by artists based in Wales and the Borders.
Tocynnau
Gwybodaeth am y Lleoliad
Gwerthu Allan
Mae tocynnau ar gyfer y digwyddiad hwn i gyd wedi'u gwerthu :(
Os hoffech gael eich ychwanegu at restr aros, cysylltwch â ni: desk@orieldavies.org
Mae'r oriel ar agor:

Mawrth - Sadwrn 10 - 4
Caffi yn cau am 3
Ac eithrio digwyddiadau arbennig
Gwyliau banc ar gau