But You Promised
Sue Challis
Test Bed
|
19 Ebrill 2008 - 7 Mehefin 2008
But You Promised is an installation that was created after the death of the artist's mother. Viewers are drawn to a rusty oil drum through sound and imagery. This evocative and haunting installation explores universal and inescapable themes of loss and mortality.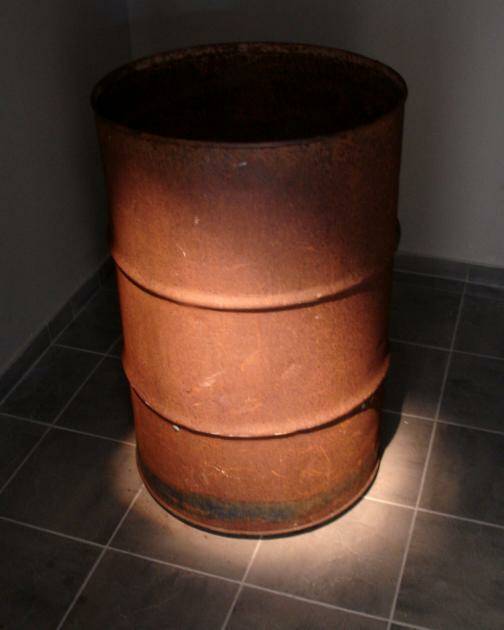 An eerie distant voice softly singing draws you in. There before you stands a rusty worn oil drum. You peer in. Looking down into its dim interior through the cloudy waters of the Grand Canal, Dublin, you are mesmerized by what you see. A transformation is taking place.
But You Promised is a hauntingly captivating installation that explores the universal, inescapable, themes of loss and mortality. Set in a poor suburb in Dublin, this nostalgic and evocative work, Challis states, " …gives visual expression to a sense of loss amid plenty…." However, there is also a sense of opportunity, a glimmering of hope amidst the destruction. There below the murky waters of the Grand Canal, discarded objects become bright and glistening jewels. The metamorphosis - that possibility that loss can be transformed into something beautiful.
For the artist, the work also carries the weight of a personal sadness. Created while on a placement at the Dublin College of Art and Design, shortly following her mothers death, the piece expresses a sense of her own loss at being 'left behind'.
Sue Challis is an emerging West Midlands artist who has shown in Birmingham, London, Wales and Shropshire. Her work, mainly video and video installation, draws on feminist and Queer Art theory in its preoccupation with identity and marginalisation. Her most recent video, 'Reading Agatha Christie' explores ideas about the war in Iraq and was shown in the Richmond, Virginia, Time – Based Media Festival in March.
Challis completed a BA Hons in Fine Art at the Birmingham Institute of Art and Design gaining a First Class Honours. She has received the Jessie Phipps Award for Outstanding Student in her UCE Arts Courses and the Ikon Gallery Prize for her final undergraduate piece which was nominated for the Max Mara Prize for Women Artists in Europe. Currently, she is studying part time for an MA in Birmingham.

*In 2009 the In Focus space changed its name to Test Bed.
Supporting new and experimental work by artists based in Wales and the Borders.
Tocynnau
Gwybodaeth am y Lleoliad
Gwerthu Allan
Mae tocynnau ar gyfer y digwyddiad hwn i gyd wedi'u gwerthu :(
Os hoffech gael eich ychwanegu at restr aros, cysylltwch â ni: desk@orieldavies.org
Mae'r oriel ar agor:

Mawrth - Sadwrn 10 - 4
Caffi yn cau am 3
Ac eithrio digwyddiadau arbennig
Gwyliau banc ar gau