William Roberts
William Roberts
Arddangosfeydd
|
19 Ebrill 2008 - 7 Mehefin 2008
William Roberts' practice references a diversity of idioms and sources, including multimedia graphics, fabric design, modern graffiti and the urban landscape, computer games, billboard adverts and Aboriginal art. For this exhibition, the artist has developed a new and experimental body of paintings that draw upon photography and family snapshots.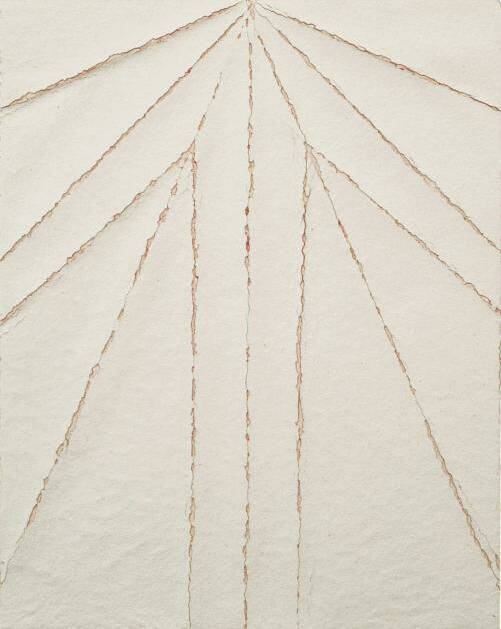 Oriel Davies Gallery is delighted to present the first major exhibition by William Roberts, an innovative young Welsh artist based in Cardiff. For this exhibition he has developed a new body of work, which pushes at the boundaries of painting and draws upon ideas of childhood and 'the domestic', creating works of great mystery and beauty.
As a student, Roberts started to explore the technical possibilities of paint, often abandoning a brush to experiment with other methods of application. Paintings are built up with multiple layers of paint and embossed wallpaper, which were then sanded back to reveal images buried amongst a complex web of pattern, shape and symbol. In 2007-8 Roberts received a production grant from the Arts Council of Wales that enabled him to develop these processes for this exhibition. These paintings, which refer back to the artist's travels and childhood, possess an extraordinary presence and richness.
William Roberts studied at University of Wales Institute Cardiff (2004-5) and Manchester Metropolitan University (1996-9). He has recently shown work at Chapter, tactileBosch, BayArt, and the Wales Millennium Centre, Cardiff

Essays & Reviews
The Process of Memory: New work by William Roberts
Essay by Antoinette McKane from 'William Roberts'
Tocynnau
Gwybodaeth am y Lleoliad
Gwerthu Allan
Mae tocynnau ar gyfer y digwyddiad hwn i gyd wedi'u gwerthu :(
Os hoffech gael eich ychwanegu at restr aros, cysylltwch â ni: desk@orieldavies.org
Mae'r oriel ar agor:

Mawrth - Sadwrn 10 - 4
Caffi yn cau am 3
Ac eithrio digwyddiadau arbennig
Gwyliau banc ar gau