Sculpteen
Sculpteen is a project run by Mid Wales Arts Centre.
In 2021 they received funding from Welsh Government, Powys County Council, Newtown and Llanllwchaiarn Town Council and Robert Owen Museum with support from Oriel Davies, The Arts Council of Wales and Race Council Cymru to deliver a local sculpture competition for young people to explore the life and work of Robert Owen
Sculpteen 2021 The Robert Owen 250 years Anniversary Project at Mid Wales Arts.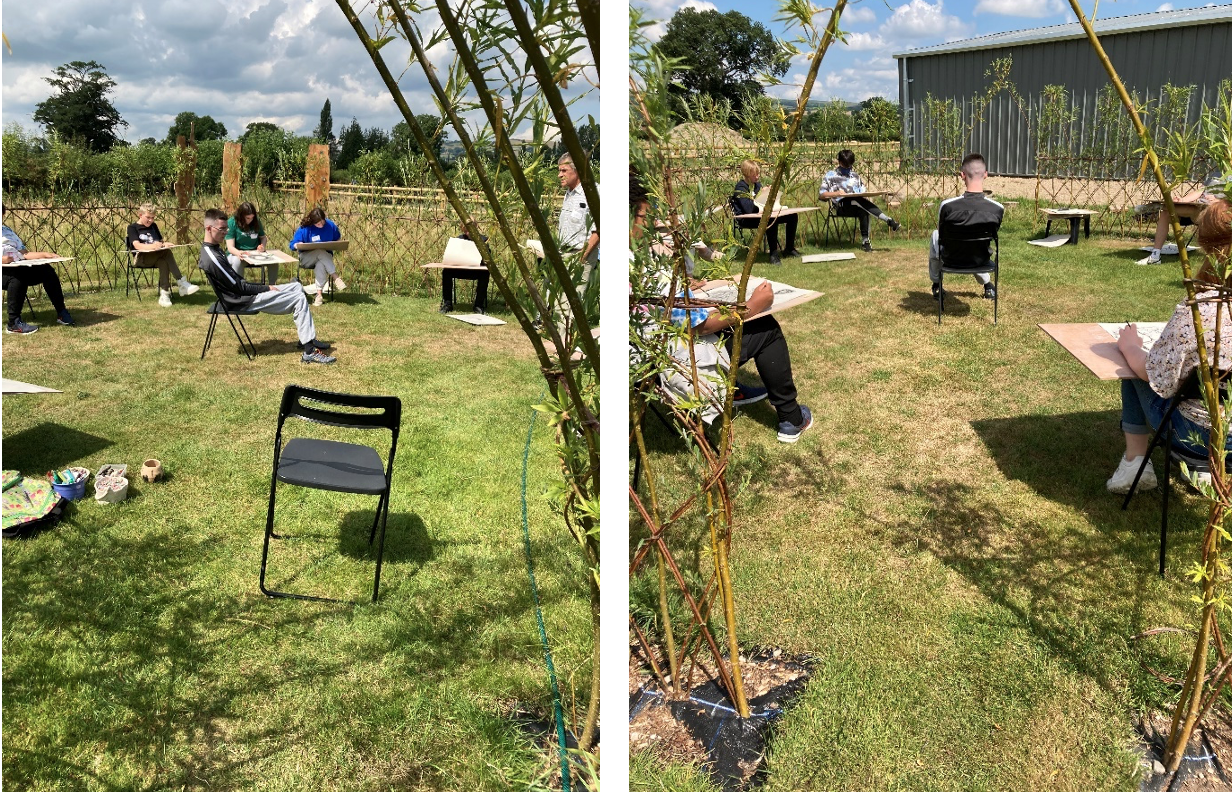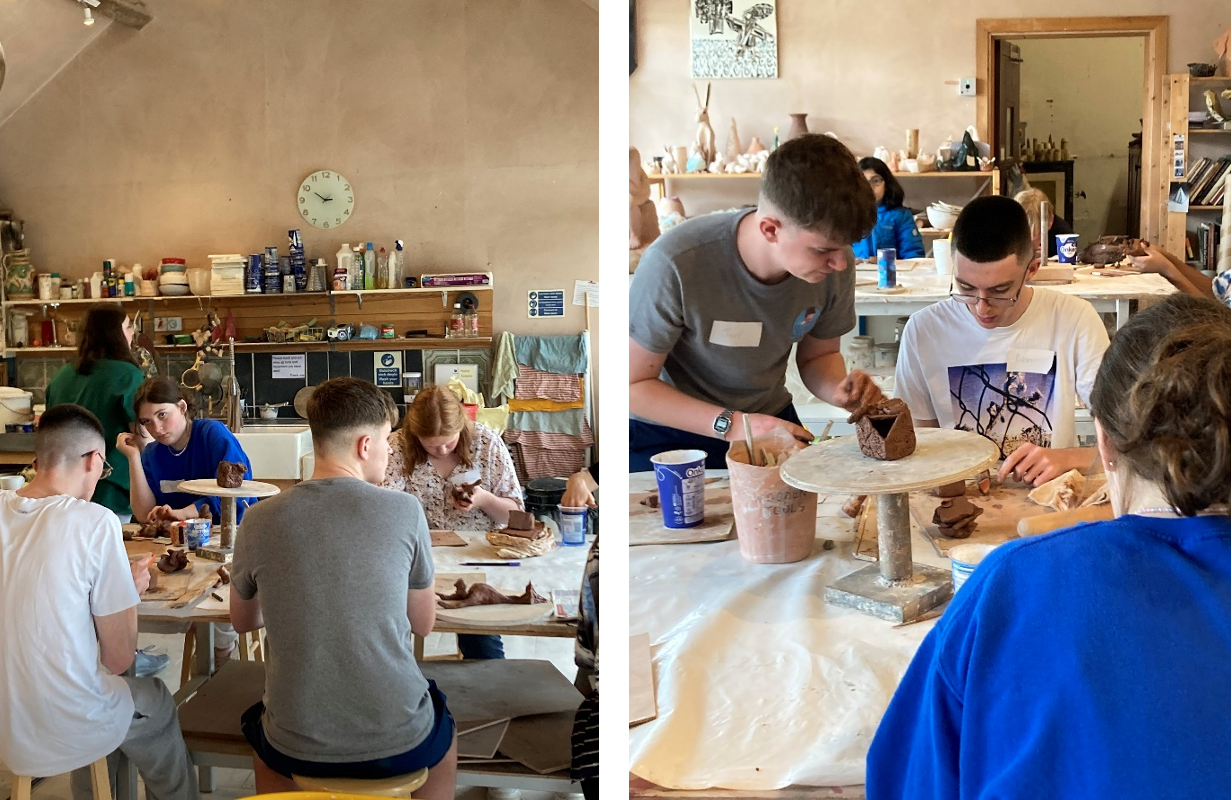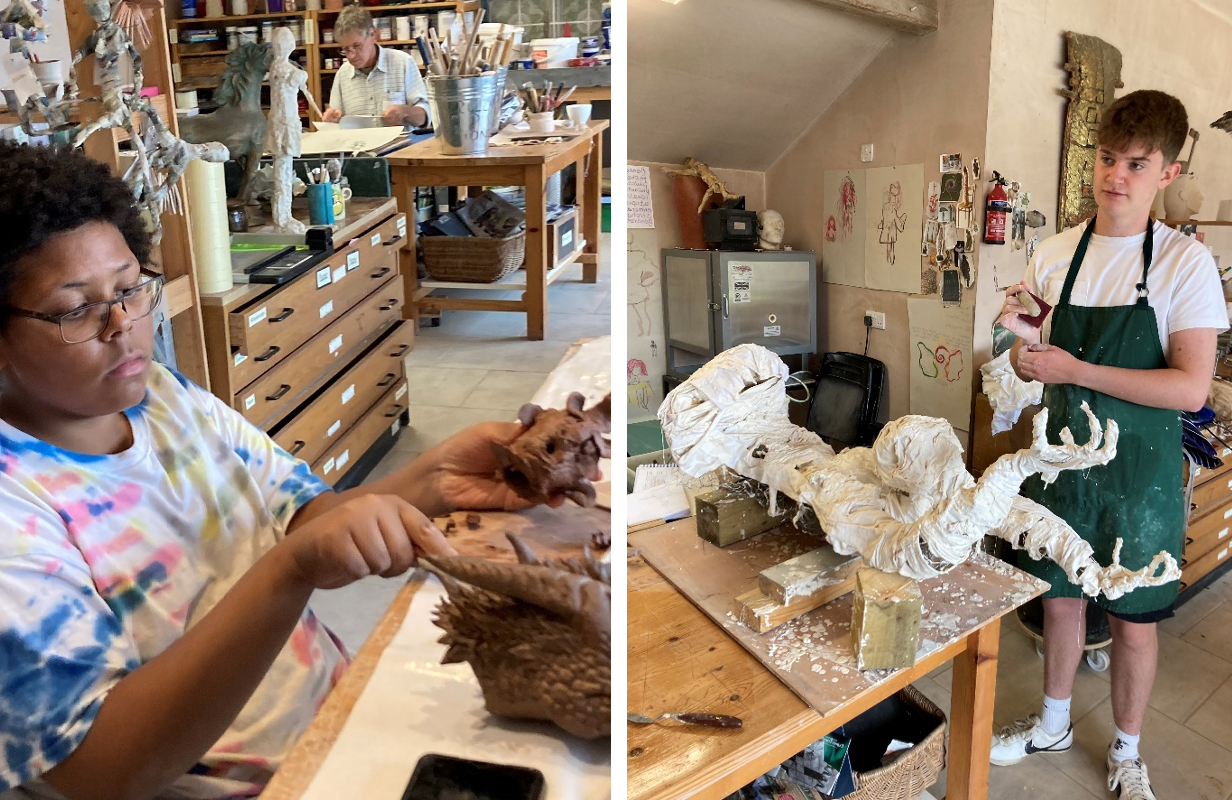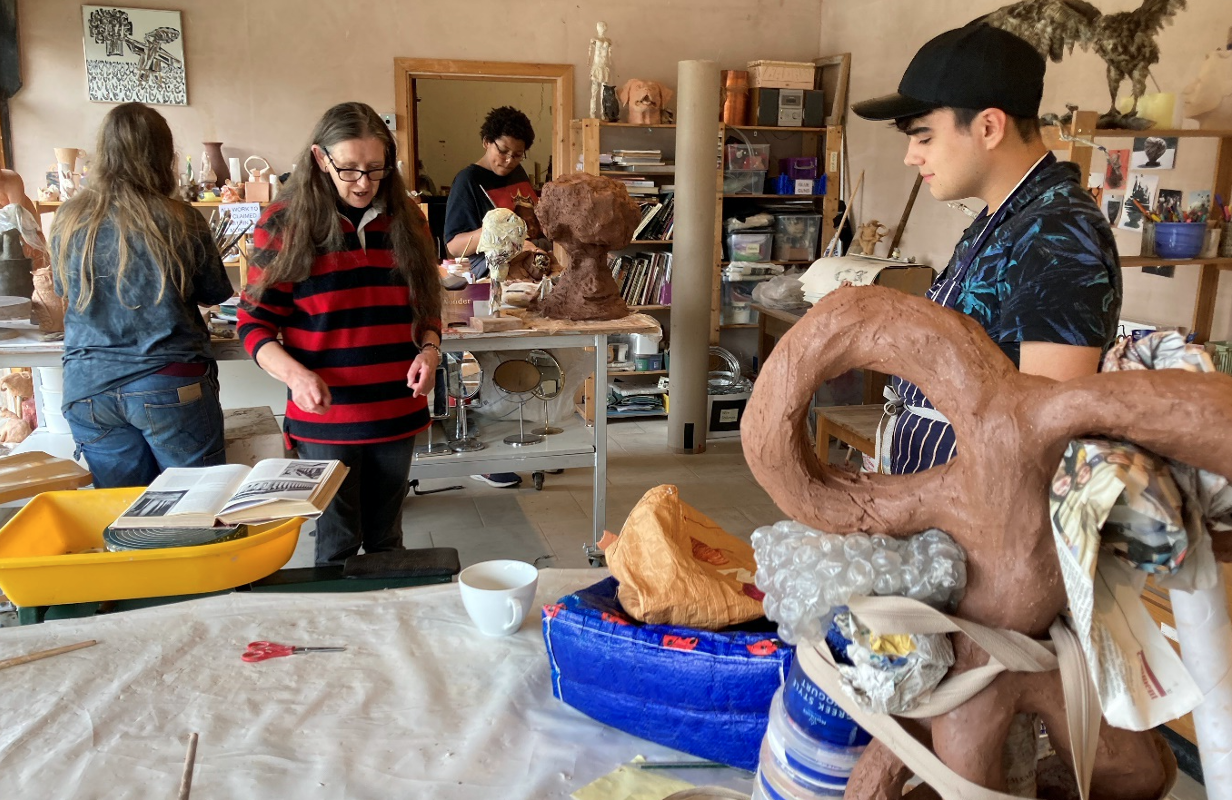 We began day 1 with a walk around the sculpture trail and a discussion about what the works conveyed, what materials, tools and techniques had been used and why. We then watched a presentation of images of ancient and contemporary sculpture from different cultures and had a discussion about them. Cathy (Knapp Evans, Mid Wales Arts Centre) gave a talk about Robert Owen and explained the project
We began the practical part of the project with an outdoor drawing session, attendees were encouraged to draw at speed, with 5 minute poses and use a variety of drawing materials.
The afternoon began with an exploration of language that would describe Robert Owen:
Words like: Pioneer, Father, Philosophical, Philanthrapist, Idealist, Utopian, Entrepeneur, Strong, Generous, Courageous, Driven, Wise, Communicator, Brave, Forward Thinking, Visionary, Unselfish, Persistent, Premonition, Planner, Purposeful were put forward and helped to develop thinking.
We had a discussion about maquettes and everyone used paper and clay to develop an idea.
We finished the day with a presentation by the Manager of the Robert Owen Museum, who kindly came and told us more about the life of Robert Owen.
Attendees worked independently on their ideas with guidance from Sculpture Cymru members Glenn Morris and Nick Lloyd with artist/curator Cathy Knapp Evans and Ceramicist Alison Finnieston who advised, fired work and supported the students.
Ideas developed over the weeks. Sometimes we had to start again from scratch, sometimes only minor modifications were needed.
Some students were not able to commit to the whole 4 weeks and so they worked on a smaller scale.
When we reviewed the 4 weeks everyone had enjoyed it and wanted to sign up for next year. One student in his 5thyear of attending said it was the best Sculpteen yet and thought that it was because we had 4 different tutors with different approaches and specialisms so that consequently they had got more out of it. Attendees came from as far away as Brecon, Oswestry, Llanbrynmair, Newtown, Llanidloes and as locally as Caersws.
Number of individual attendees over 4 weeks : 20
Number of sessions attended: 72
Number of tutors involved : 4
Age of Attendees: 12-18
Materials used: Charcoal, pencil, pen, paper, clay, wood, plaster, scrim, found objects, brick, wire, adhesives, newspaper.
Balancing note:
Dr Omotolani Somoye has written the following in response to a comment about Robert Owen being a "man of his time". Not a phrase used in this report, however in a spirit of balance, it's a useful observation.
"Whose time are we talking about?
The time he lived in when there were hundreds of thousands of abolitionists who stood against slavery in Britain and in America? No, he certainly wasn't one of those.
Are we referring to the millions of enslaved Africans who were also 'of his time' and who fought and died for their freedom every day of their short, hard lives? No, he certainly wasn't one of those.
So, when we refer to him being a 'man of his time', we are referring to him being one of a comparatively small, but powerful group of (mostly) white men who kept slavery going either by actively fighting to keep it going or, like Owen, passively supporting it, while benefiting from its produce."
You might also be interested in...