Story Time at Oriel Davies
Storytelling sessions for Newtown's nurseries this autumn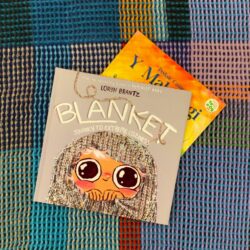 Story time will take place in the gallery space where our current exhibition of contemporary blankets and weaving is on show. The exhibition brings together some of Wales's leading textile artists in a celebration of craft and colour, brightening up our autumn days.
With blankets in mind and their association with warmth and comfort we're inviting children to bring in their special blankets for a cosy story telling session. There will be a brief tour of the exhibition too. The stories encourage participation and will be read by gallery staff.
Stories are suitable for 2 – 4 year olds. Sessions will run on Tuesday and Thursday mornings 10 – 10.30 am between mid-November and mid-December (we have some flexibility on timings if these are not convenient).
You can book a space on one of the following dates:
November 18th, 23rd, 25th or 30th
December 2nd, 7th, 9th, 14th or 16th.

Please indicate the numbers of pupils and staff attending. To ensure the gallery's Covid restrictions are upheld numbers are limited to 20 children plus staff.
Entrance is via the main doors on the park side of the gallery.
Mask wearing is required by adults (unless exempt) during the tours.
If you have any queries please contact the gallery on 01686 625041 Tuesday - Saturday 9am – 5pm.